Harvest Run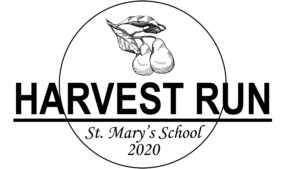 Our annual Harvest Run fundraiser is held in mid-October each year. Runners have one hour to complete as many laps around the school field as possible. Runners are sponsored by supporters who pledge either a fixed amount for a runner to participate, or pledge an amount per lap run by a runner.
Harvest Run 2020 is being held virtually on Thursday, November 19th.
The Harvest Run is a fun way for students to learn that exercise is fun and healthy, and at the same time take an active role in helping to raise money for their school.
Thank you for encouraging our students to get out there, collect sponsors, and run for fun!
Prizes are awarded to top fundraisers and runners in each class.
Students who collect $100 in pledges get free dress for two days during the month of November!
All funds collected during the Harvest Run benefit the students, teachers, and parents of St. Mary of the Angels Catholic School.
Pledge packets are handed out a few weeks before the event, and include information about the prizes to be awarded and sponsor signup forms.
All donations are 100% tax deductible.
Family Volunteers – We Need Your Help
We need volunteer to help with the event setup, staff the starting gate, and serve refreshments to thirsty runners.
To volunteer for this event, or if you have any questions, please contact the school office.