5th Grade Girls – 2023 North Bay CSL Basketball Champions!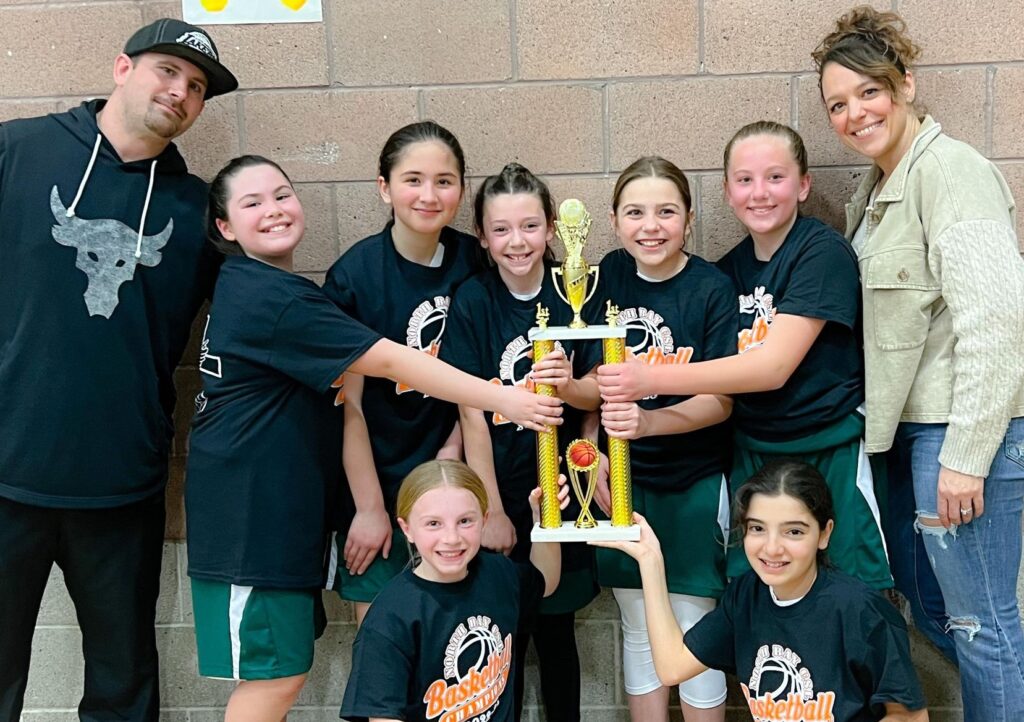 What a great season! St. Mary's 5th grade girls team lost only one game during the regular season, and faced this team again in the final championship game on February 25, 2023.
Our team knew going in to the game that the key to winning would be stopping the St. Helena point guard, who had incredible speed, driving through St. Mary's defense and scoring almost ALL of St. Helena's points during our first encounter.
Our girls took turns working together to defend and stop the St. Helena point guard. She was unable to penetrate the paint due to our incredible defense! Kenadie White and Elle Keffeler started the first half on fire, racking up 16 points and giving our team a solid lead.
In the second half, our team continued to dominate the game. Giada Giacomini had countless rebounds, and attacked underneath the hoop, scoring 10 points. Gabby Hana showed pure spirit on the court, doing whatever it took to jump that pass. Ava Sublet was incredible, working at the top of the key, attacking the ball and continuing to stop St. Helena in their tracks.
Kenadie White fouled out at the end of the 3rd quarter. St. Mary's was down by one point. The team came in during a time-out, realizing their point guard was out of the game, and knowing that they would each have to step up their game, work together as a family to come out with a victory.
At the beginning of the fourth quarter Kaylani McCasey came in, clutch popping a three-pointer, which electrified the team. She didn't stop there, attacking the rim with two more lay-ups! Emilia Quigley worked hard at rebounds underneath the rack, ensuring St. Mary's possession. On offense, Elle Keffeler took the ball to the rack more times than we could count, drawing two fouls and making all her free throw shots.
This team worked incredibly hard together using their two most powerful weapons, their hearts and brains! Without the camaraderie and love they share, this victory never would have happened. They left it all out there on that court, and it showed!
Congratulations to our athletes!