Holiday Bazaar and Celebration
Join us to celebrate the start of the holiday season at St. Mary's Holiday Bazaar!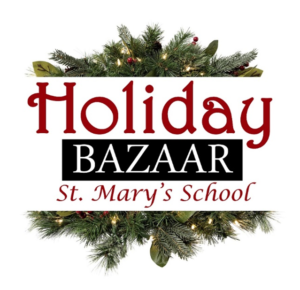 This free event will include complimentary food and drinks for kids and adults, family fun activities and our traditional silent auction! Proceeds help secure a bright financial future for St. Mary's School.
St. Mary's Holiday Bazaar and Celebration
December 4, 2022
10:30 a.m. to 12:30 p.m.
Barra Winery
7051 N. State St., Redwood Valley
How You Can Help
The success of this event relies on donations of time and creativity! We need your help with the following:
Help a class create memorable auction items
Create your own holiday craft or gift basket
Help with setting & breaking down the event
Help oversee event activities (7th/8th graders welcome)
Please contact Kristi Ross at [email protected] or (707) 367-1606 for more information.
Thank you for your support!