Welcome Our New TK Teacher!
We are thrilled to announce that we have hired a TK teacher for the 2023/24 school year! Ms. Isabella Anzilotti will join our faculty in August, returning to a campus she knows and loves as a former student. Here's a note from her: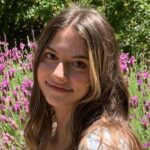 "I am so excited to be the teacher for the St. Mary's TK class in the 2023-24 school year. I was born and raised in Ukiah, and grew up attending St. Mary's, so I feel blessed to be right back where I started.
"I attended California State University, Fullerton and graduated in May of 2022 with my bachelor's degree in public health with a global health concentration, and a minor in child and adolescent development. During my time at Cal State Fullerton, I had the privilege of working with children ages 2-5 at the Children's Center on campus, where my love for early childhood education was established. I have a passion for helping children reach their fullest potential and I love to challenge students to be curious and take chances when learning.
"There is a wonderful team of teachers and staff at St. Mary's that instills positive values and a great foundation of learning in their students. I am honored to join this team. I look forward to sharing the love I have for this community and school with the St. Mary's TK class and their families this upcoming school year."
If you know someone who is still interested in sending their 4-year-old to St. Mary's next year, we have just a few spots left in our TK program. Please contact Mr. Soria at [email protected] for more details, or apply online today!